Gift Idea For Those Who Are Gender-Questioning
With this being the gift-giving season, I wanted to address a question I've been frequently asked:
Is You and Your Gender Identity: A Guide to Discovery something I should get for a gender-questioning individual in my life?
I wanted to offer a free section of the book for you to review to help you make this decision. It is a good example of the types of exercises I provide in it (and there are plenty, the guidebook comes in at 280-pages!).
Additionally, here is a video where you can get more glimpses into the guidebook, as well as a 10% off coupon.
Lastly, here is a review that goes really in-depth as to what someone can expect when working through the guidebook.
I've also had many parents, educators, and counselors ask:
Is You and Your Gender Identity: A Guide to Discovery suitable for me to purchase for a gender-questioning adolescent or teen in my life?
My advice is that if the adolescent or teen can read at a Young Adult level, then they should be able to comprehend the book's content. Another great book for teens is THE GENDER QUEST WORKBOOK.
---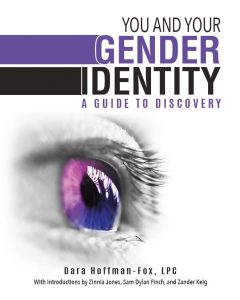 Click here to purchase YOU AND YOUR GENDER IDENTITY: A GUIDE TO DISCOVERY directly through my website (thank you for supporting my small-business! 
)